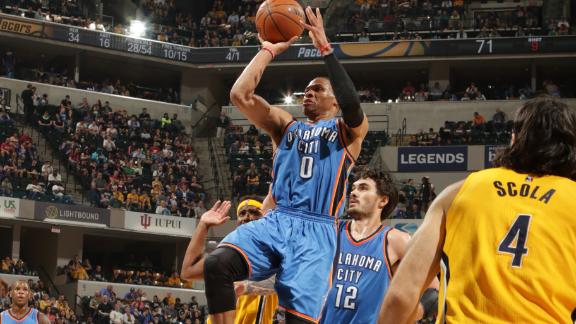 Westbrook is one of the top 5 candidates for the MVP title this year, but he's loosing any chances of wining the honors at the end of the season with the performance of his team. Although Westbrook has recorded the most triple doubles after the All Star break, this achievement is even historically significant with only two other players recording the same amount of triple doubles during the same period of the season, his team is still out of the playoff picture.
[su_button url="http://www.interbasket.net/forums/" target="blank" style="soft" size="3″ wide="no" center="no" icon="icon: comments-o"]Discuss this on our forum[/su_button]
.
Even yesterday when Russell Westbrook scored 54 points, which is his career high, Oklahoma couldn't record a wing against the Indiana Pacers. Now the Pacers are almost locked in for the playoffs and the Oklahoma City Thunder are still on the 9th spot tied with the New Orleans Pelicans for the 8th spot, with Anthony Davis's team holding the tie breaker.
There are two more games till the end of the season for both teams and it seems like the Pelicans have realistic chances of reaching the playoffs. Both the Pelicans and the Thunder play the Minnesota Timberwolves in the next couple of days. OKC plays against the Portland Trailblazers tonight and New Orleans plays the reigning champs on the last day of the season. It's very probable that Popovich will rest his starters in that game.
If Oklahoma looses to Portland tonight and New Orleans wins in Minnesota, then it's all over for Russell Westbrook and his Thunder. There is also a possibility of a one game suspension for Westbrook for tonight's game. This period could bring the whole franchise down and we could see Westbrook, Ibaka and Durant changing environments in the next couple of seasons.
[su_youtube_advanced url="https://www.youtube.com/watch?v=ICcAD6-CiKo" width="460″ height="340″]