Last week, a handful of NBA teams released the latest versions of their City Edition uniforms in collaboration with Nike. For the most part, the new jerseys were exciting takes with inspiration taken from a city flag, Prince (the artist formerly known as), Native-Americans and modern takes on throwbacks. All said, about eight teams announced their 'City' alternates last week and that just made us salivate for the remaining twenty-two teams.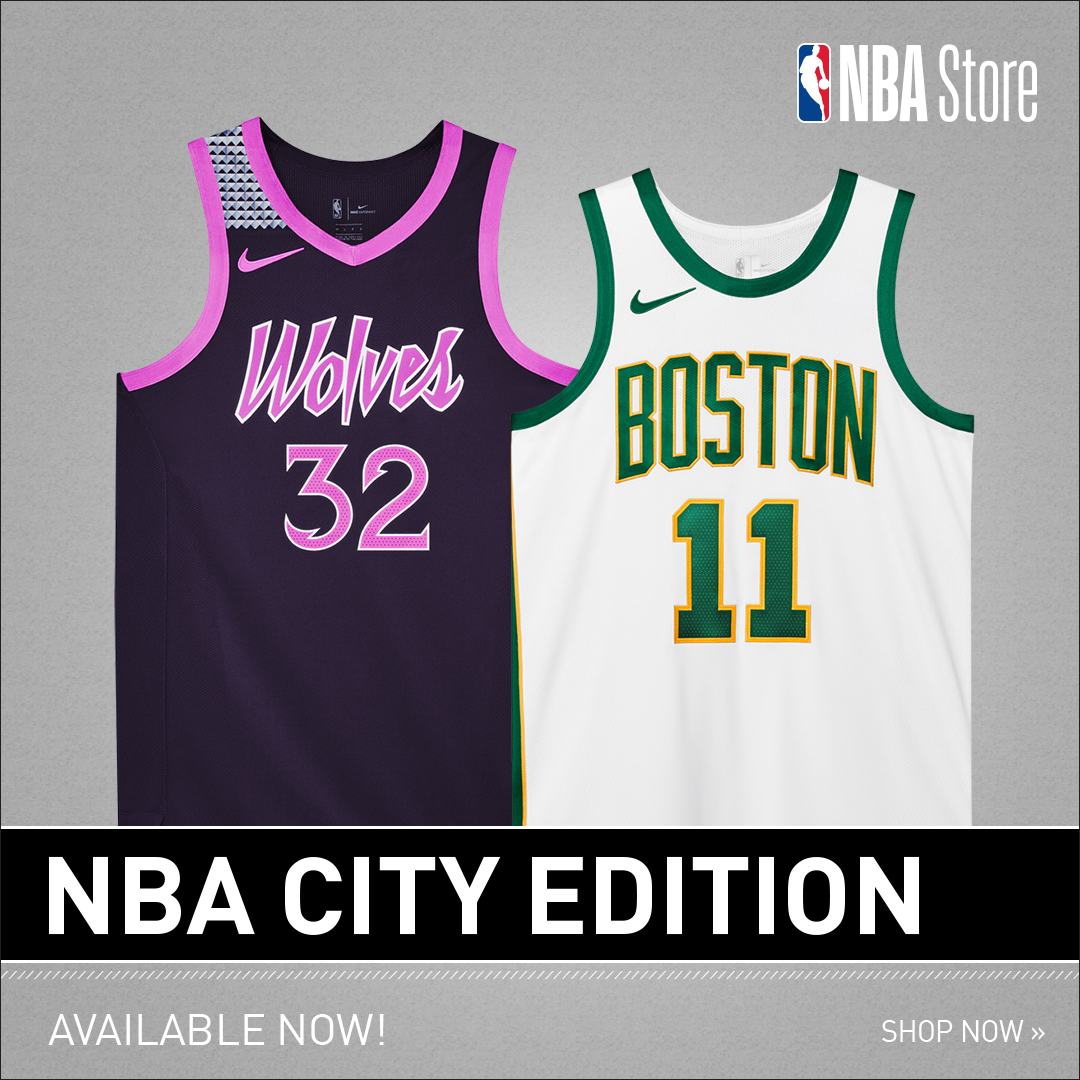 We didn't have to wait long for the remainder. Just a couple days ago, the NBA Store released the rest of the NBA City Edition Uniforms for the new season.
Check out the 2019-20 City Edition Jerseys
Outside of the Utah Jazz, Toronto Raptors and the dope Miami Heat 'Miami Vice' jerseys, every other NBA club updated or refreshed their alternate jerseys. Take a look at our image gallery of every NBA team's City Edition alternate uniforms for the 2018-19 season:
Atlanta Hawks City Edition Uniforms for 2018-19
The Hawks City Edition Swingman Jersey is a departure from what we're used to seeing from the franchise with a new Nike white colorway for the 2018/19 NBA season.

The Atlanta Hawks new alternate uniforms surprisingly doesn't feature Trae Young. Instead the ATL show off second-year forward John Collins.
Boston Celtics City Edition Jerseys (Home)
The new Celtics digs shows that you can still be simple and still give an upgrade. We're digging how clean the new Boston alternate looks look.

Above is the Boston Celtics Kyrie Irving's alternate Nike White 2018/19 Swingman Jersey (City Edition).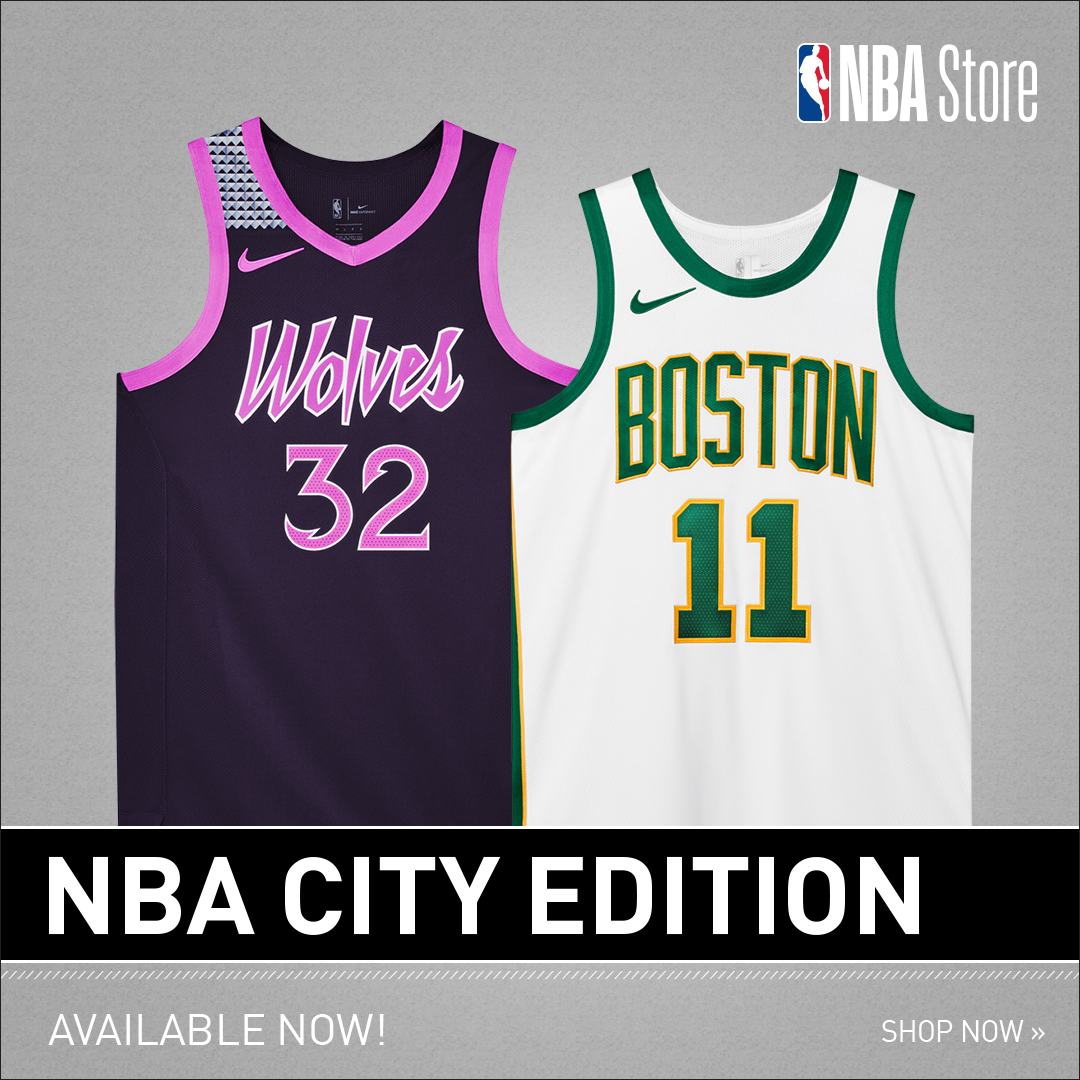 Brooklyn Nets City Edition Uniforms – Trim
The Net's new City Jerseys are a more contemporary version of last season's jersets with a Notorious B.I.G. in Coogi inspired trim. Not sure if it's officially partnered with the 90's fashion brand or not, but despite the simplicity, the trim is a dope touch.

This is the men's Brooklyn Nets D'Angelo Russell Swingman City Edition Jersey in Nike Black 2018-19.
Charlotte Hornets 'Buzz City' Edition Uniforms
The Charlotte Hornets stuck with 'Buzz City" nickname. What do you think about the new "Buzz City" Swingman Black 2018/19 Jersey (City Edition)?

Pictured above is Kemba Walker's jersey. And because Charlotte Hornets is being run by Michael Jordan, it's no surprise that Charlotte's City Edition uniforms are Jordan Brand.
Chicago Bulls 'City Flag' Alternate Jerseys

The new Chicago Bulls Lauri Markkanen City Edition uniforms are inspired by the city of Chicago's flag with the light blue and red stars. We're loving Nike's new take on colorway for the iconic team: pictured above is the Black Chicago Bulls Swingman Jersey for 2018-19.
Cleveland Cavaliers City Edition Uniforms – Orange/Blue

Paying homage to the Cleveland Cavaliers' old team logo from an era ago when Mark Price, Larry Nance (Sr.) and Terrell Brandon played for the franchise out of the midwest. The new City Edition uniforms are color-blocked with blue and orange. Featured above is the Kevin Love Nike City Edition Swingman jersey in blue.
We're a bit surprised the team didn't go with "The Land" on this one. We think it would have added needed cool factor to the modern take.
Dallas Mavericks City Edition 'Horse Logo' Uniforms

Men's Dallas Mavericks Dirk Nowitzki Nike Anthracite 2018/19 Swingman Jersey – City Edition
Denver Nuggets City Edition 'Modern Throwback' Jerseys

Denver Nuggets Nikola Jokic Nike White 2018/19 Swingman Jersey – City Edition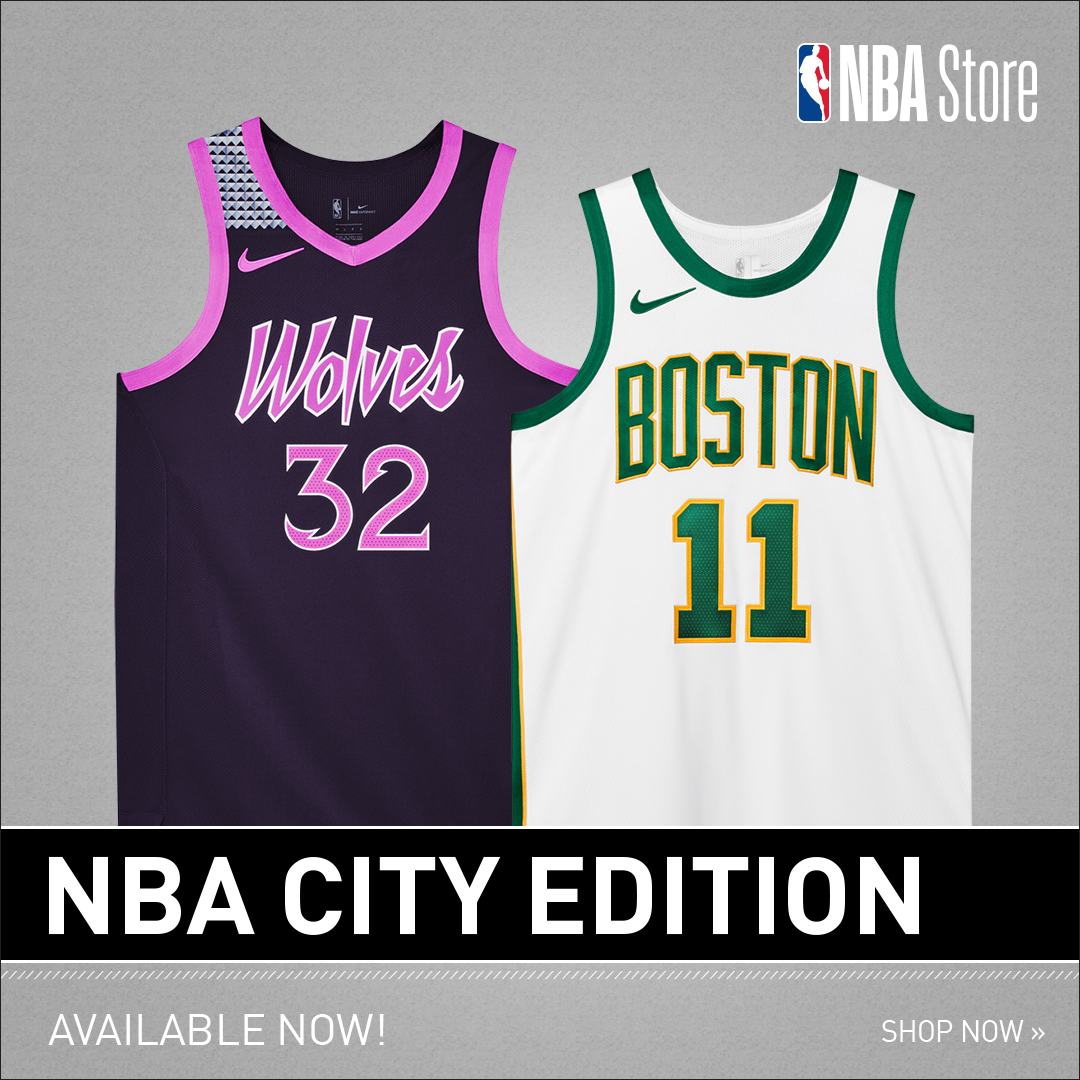 Detroit Pistons City Edition Uniforms – Shades of Grey

As we chatted about in our previous post, the Detroit Pistons new alternate jerseys from Nike are a departure from what we're seeing from the franchise — not just from a colorway, but in overall design. It's nice to see D-Town get a sleek jersey with an extremely clean feel. Pictured above is Blake Griffin's Nike Swingman City jersey in black and gray.
Golden State Warriors City Edition 'Chinese Heritage' Jerseys
The Golden State Warriors newest Nike jerseys are Dri-FIT and honor Chinese Heritage because of the large Chinese population throughout the Bay Area with Chinese letters above the iconic Bay Bridge. 'The Bay' City Edition Swingman Jersey also moves the Warrior color palette of blue and yellow to a more serious shade. The blue is now referred to as "indigo"

In the past, the Golden State Warriors City jersey also featured the Bay Bridge and honors the Bay Area's large Asian population with a Lunar New Year-inspired jersey. Featured above: Stephen Curry Nike Navy 2018/19 Swingman Jersey – City Edition. Here's what the Golden State Warriors have to say about the new uniforms:
"we're celebrating the Bay's Chinese heritage by giving our City Edition jerseys a new look. Celebrate the Bay, as well as 47 years of Warriors basketball at Oracle Arena by picking up one of these new limited-edition jerseys."
Houston Rockets City Edition 'Chinese Characters' Uniform
Like Golden State, the Rockets' colors have shifted from a less-brighter look to a darker, serious red seems and more of a metallic gold feel. With the inclusion of two Chinese characters on the jersey, one can safely assume the updated colors align more with the importance of red and gold in Chinese culture.

Featured above is the Houston Rockets Nike Red/Gold City Edition alternate jerseys: James Harden Swingman
Indiana Pacers City Edition Uniforms – Grey/Royal Blue
Every one of the new alternate jerseys are a little cleaner, but there's something slicker about the new Pacers Nike jerseys. Their City Edition for this season is almost futuristic in terms of how clean and modern it feels.

Pictured above is Indiana Pacers Victor Oladipo Nike gray Swingman jersey.
Los Angeles Clippers 'LA' City Edition Uniforms
I have to say, the Los Angeles Clippers new City Edition jerseys might be my favorite new alternate uniforms. Nike's new impressive uniform (feat Lou Williams) in navy/white/re star Swingman jersey is the most-modern re-imagined jersey in my book. We love the "LA" font "logo" and how the Clipper blue works on the sleek jersey material. I can't wait to see these on Tobias Harris, Boban Marjanovic, and Montrezl Harrell.

Los Angeles Lakers 'Purple Pinstripes' City Edition Jerseys

Men's Los Angeles Lakers LeBron James Nike Purple 2018/19 Swingman Jersey – City Edition
Memphis Grizzlies City Edition Uniforms

Men's Memphis Grizzlies Mike Conley Nike Gray 2018/19 Swingman Jersey – City Edition
Miami Heat City Edition 'Miami Vice' Jerseys
If there was one team that captured the city-inspired City Edition jserseys 100% last year when they were introduced, it was the Miami Heat. The team based took inspiration from the colors associated with South Beach and Miami Vice. There's not much  anyone would improve upon from the neon blue and pink in a Miami Vice font as represented below.

Above is Miami Heat's Dwyane Wade Nike black Swingman Jersey for the 2018-19 season.
Milwaukee Bucks City Edition Uniforms – Yellow/Green/Red
 
Men's Milwaukee Bucks Giannis Antetokounmpo Nike Yellow 2018/19 Swingman Jersey – City Edition
Minnesota Timberwolves 'Prince' City Edition Uniforms
The exciting new Minnesota Timberwolves jersey is inspired by Prince. The musical legend was born in the state and his estate is in Minnesota, so the franchise used Prince as their inspiration. The Wolves franchise worked with Prince's estate, which incorporates multiple references to the legacy of Prince. From the font — which is reminiscent of the 1980s Prince era — to the tonal purple most closely associated with Prince, the uniform speaks of his legacy and bond with the state. We think it's dope.

Here's the Karl-Anthony Towns Nike black/purple Swingman City Edition jersey.
New Orleans Pelicans City Edition Retro Jerseys 2018/19
We love the New Orleans' newest City Jerseys. It's another example of a simple, clean, minimalist look. With the clean, clear white as the majority of the area, the distinctive colors of purple, green and yellow of New Orleans, Louisiana becomes the star. Though it's clearly a contemporary design, the new alternate jersey gives us a retro feel.

Pictured above is the Pelicans' star Anthony Davis Nike White 2018/19 Swingman Jersey (City Edition).
New York Knicks City Edition Uniforms – Blue/Orange Trim

Men's New York Knicks Kristaps Porzingis Nike Navy 2018/19 Swingman Jersey – City Edition
Oklahoma City Thunder City Edition Uniforms – Teal
The new Thunder city jerseys were inspired by the rich Native American culture.
"More than just a uniform, this is a statement of our pride in the Native American culture that is so rich and vibrant in the fabric of Oklahoma," said Thunder Senior Vice President Brian Byrnes. "We are honored to have worked with Nike to develop a design that in so many ways captures and celebrates the influence of our state's Native American communities."

This is Nike's City Edition jersey for the Oklahoma City Thunder. Above is Russell Westbrook Nike Turquoise 2018/19 Swingman uniform (City Edition).
Orlando Magic City Edition Uniforms – Black Update

Men's Orlando Magic Aaron Gordon Nike Black 2018/19 Swingman Jersey – City Edition
Philadelphia 76ers City Edition Jersey – Heather Grey
The Philadelphia's Sixers' new heather grey jerseys give a sweatpants material feel. That feeling is supposed to invoke "Philadelphia's rich history of the challenger's mentality that inspired the 'Rocky' and 'Creed' films."

Above is the Philadelphia 76ers Joel Embiid city jersey in gray. Go to this post to see Ben Simmons modeling the new heather gray jerseys.
Phoenix Suns City Edition 'Los Suns' Uniforms

Men's Phoenix Suns Devin Booker Nike Purple 2018/19 Swingman Jersey – City Edition
Portland Trail Blazers 'Rip City' City Edition Jerseys

Men's Portland Trail Blazers Damian Lillard Nike Black 2018/19 Swingman Jersey – City Edition
Sacramento Kings 'Sac Town' City Edition Uniforms – Light Blue
We love the new Sacramento Kings Swingman alternates for the 2018-19 season. Last year's version was about the same, but instead of the King's logo, the team went with "SAC TOWN" the nickname of the city in a modern font outlined in red.

Featured above is second-year player De'Aaron Fox in the Nike light blue Swingman Jersey (City Edition).
San Antonio Spurs City Edition 'Camo' Jerseys
We're a bit confused / happy that the San Antonio Spurs chose to feature Manu Ginobili for their 2018-19 Swingman Jersey. It's nice to see the Spurs' black and silver color play get an updated design in the form of camouflage.

Toronto Raptors City Edition 'The North' Uniforms
As much as we like the Toronto Raptors new 'City' alternates we must admit the Nike white Swingman jersey is almost too basic in it's design. With a simple all-white look and gold banner pointing upwards, the team plays on the location of the only NBA franchise in Canada with the "The North" team motto.

Utah Jazz City Edition Uniforms – Desert Orange/Yellow/Red Rock
The Utah Jazz maybe thought that last year's City Edition was enough of a departure from what we're used to seeing from the team in Salt Lake. And they'd be right, the desert colorway unveiled last year is a huge leap from the "jazz note" play we're used to seeing

Above is the Nike Orange 2018/19 Swingman Utah Jazz custom Jersey (City Edition).
Washington Wizards 'National Mall' City Edition Uniforms
As we mentioned in a previous post, the Washington Wizards were one of the eight teams to announce updated city jerseys last week.

Featured here is John Wall in the new Nike Black 2018/19 Swingman City Edition uniform inspired by D.C.'s National Mall.