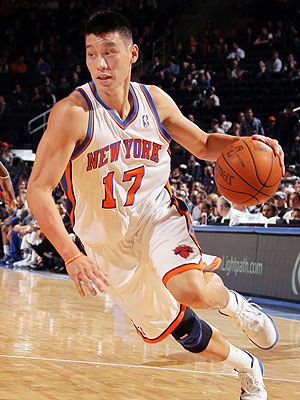 It was only a few short years ago that the denizens of Madison Square Garden serenaded Kobe Bryant, an outsider, with chants of MVP.
So when Jeremy Lin bested Bryant in a game of shot-for-shot, receiving the crowd's adulation, the Garden belonged to the New York Knicks again. And Jeremy Lin belonged to New York.
For millions of Asian-Americans, this is the first time seeing one of their own breakthrough on the basketball court. Someone that looks like them, shares their cultural experiences and tribulations. The story of Jeremy Lin belongs to them.
Then came Valentine's day. On an otherwise nondescript Tuesday night in Toronto it was Lin, like Bryant in New York, playing the outsider. Dribbling the clock down though its waning seconds, the crowd stood with a collective energy. Make or miss, it would be a moment of jubilation–but the excitement, the joy, came in not knowing what would happen next.
With but a few precious seconds Lin rose into his shooting motion, the ball hung in the air, silencing the crowd for a moment. As it settled into the net the home crowd roared, cheering on the outsider. The moment was created by Lin, but it belonged to everyone.
That's just it with Lin. Part of our human condition is the desire to be a part of something bigger. It's why so many gravitate towards sports in the first place, fans affixing the pronoun 'we' when referencing their favorite teams. But no connection strikes deeper than when one of our own reaches great heights. It's almost as if we can project ourselves in their place.
For Knicks fans and Asian-Americans, the connection is obvious. For others? I am not of Asian decent, nor do I hail from New York. Yet I remain captivated. Why?
Lin is being pitched as the ultimate underdog story. This fails on two levels, the first being the question, can anyone with a Harvard education ever be considered an underdog? Athletically, yes it would seem. But Lin is not Notre Dame's Rudy, a marginal athlete who surpassed his physical limitations.
At 6-3 and 200 pounds, with a quick first step, Lin is a legitimate NBA athlete. Some might even say a good–but not great–one. If anything, his skill set up to this point has been trying to catch up to that physical potential.
The type of numbers Jeremey Lin is putting up, and the way he is producing them–a shaky jump shot, a high rate of free throws, and a seemingly unsustainable rate of success finishing at the rim–would suggest the work of an elite athlete like LeBron James, or a masterfully skilled technician like Steve Nash.
Lin is neither. He is a plus-athlete with a flawed game, one that has its share of glaring holes–the turnovers, the come-and-go shooting percentages away from the basket. And yet, for the time being, he is tapping into some supernatural force that is pushing this openly flawed game to heights previously set aside for only the inherently best of us.
It's a perfect confluence of circumstances Lin finds himself in. The right coach. The perfect system. An opportunity. A perfectly timed hot streak. Before this perfect storm, Lin was not this quality of player. If he was, he would not have been cut by two other teams this season. But the effects have been transformative.
They were a catalyst to bring his potential to the forefront. Confidence has enabled Lin to knock down big shots with the kind of swagger that Kobe Bryant use to display before his crunch-time exploits became an exaggerated parody of himself. Lin will eventually regress to a mean, but this streak of his best days have considerably risen what that mean is.
This is where we connect with Lin. With the hope that in the right situation, in the right setting, our potential will be allowed to shine through. That a break is all we  need to become more than we are. This is why the story of Jeremy Lin belongs to us all.
(162)