We see it everyday with high school athletes that don't move on to play in college. In college, they take up other hobbies like the free food at the cafeteria, drinking and chowing down on late night snacks during cram sessions or just snacking while watching TV.
Gone are the practices right after school or the "next season" to think about. After college, the former athletes get married, have 2 kids and at the reunion, you see that their physique isn't where it was when they were a junior playing Varisty basketball. Not even close.
Gaining weight after a player retires is not uncommon in the NBA. It's no surprise when a world-class athlete with a world class metabolism stops playing basketball every day… after playing almost every single day of their lives against other world class athletes.
The player played every single day, between 2-10 hours a day, over the course of 2-4 decades while eating and drinking as much you'd like. Then they abruptly stop playing altogether or dramatically play less.
No matter the circumstance, they're still human. And without that regimented schedule of intense daily challenge to their cardiovascular system, testing of their endurance and strength — well, those thousands upon thousands of calories per day are never converted into into energy much less muscle. Those calories turn into fat, and eventually, so does the player.
The problem is, when professional athletes retire or stop exercising, they forget that they can't eat 5000 calories a day anymore. Not to mention that as humans age, so does our metabolism. It slows as we slow. That's a new reality many NBA players have trouble dealing with. A lot of these guys forgot to keep an eye on — as exercise goes down, so should caloric intake in proportion.
Even if players adjust their diets, they'll still gain weight from just not playing; as their metabolism adjusts. Some players don't adjust their eating habits, so they balloon up from years of leisure, relaxing and/or partying. Let's also consider that NBA players are giants, so it's easy to scarf down 4 cheeseburgers at a sitting before realizing it.
Here's 12 players that got fat after they left the NBA in no particular order.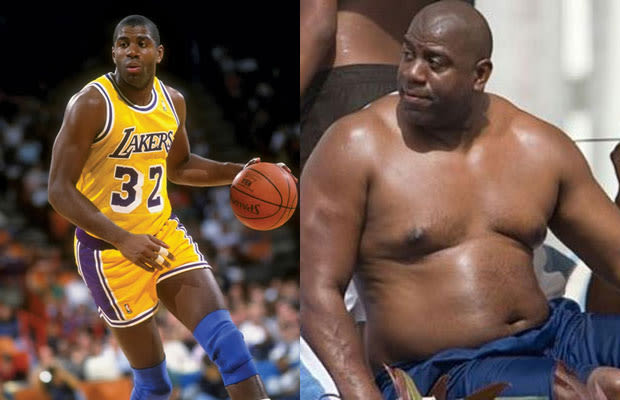 1. Magic Johnson, Rookie weight: 200 lbs,  Current estimated weight: 260 lbs
The leader of the Showtime Los Angeles Lakers is currently an important figure in his community leading couple of NGOs working on finding a cure for AIDS, but it seems like he's not even trying to get back in the shape that he once had. Magic is 55 now and he has gained large amount of weight immediately after he retired most likely due to health issues.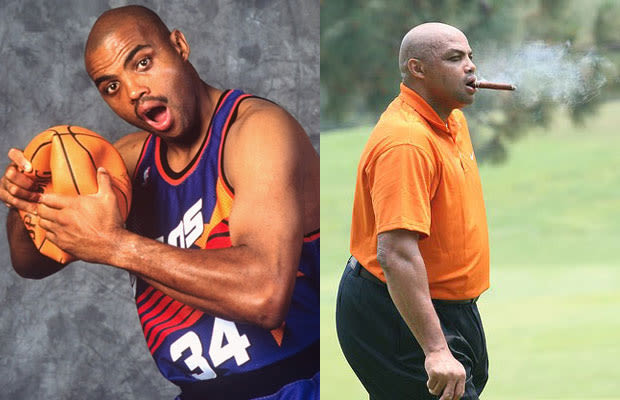 2. Charles Barkley, Rookie Weight: 250 lbs (was around 230 at his best), Current estimated weight: 310 lbs
The Round Mound of Rebound was one of the best nicknames that Charles Barkley got during his playing days. The name stuck because he was not tall enough and overweight for his position. This hasn't stopped him to be one of the best rebound machines of his generation. Today Sir Charles is a TNT analyst and enjoys playing golf and smoking cigars.
3. Ron Artest / Metta World Peace, Rookie weight: 230 lbs, Current estimated weight: 270 lbs
Artest hasn't officially retired from basketball, but it's sure that he won't be a part of the NBA anytime soon. That surely hasn't stopped him to participate in TV show Dancing With The Stars although measured at around 270 lbs.
4. Shaquille O'Neal, Rookie weight: 280 lbs, Current estimated weight: 370 lbs
Remember that muscular and slim Shaq from Orlando? It seems like he gained 5 lbs in average every year since then. Retirement only served as a good time to get even bigger. Shaquille is currently weighing in around a whooping 370 lbs.
5. Shawn Kemp, Rookie weight: 230 lbs, Current estimated weight: 300 lbs (was well over 300 during his time with the Magic)
Being a part of the most dynamic duo in the 1990s alongside Gary Payton and not winning a NBA Championship ring must be tough. That's why Kemp decided to drown his sorrow with partying and heavy drug abuse. Today he's the proud owner of a restaurant and it looks like he just loves the food there.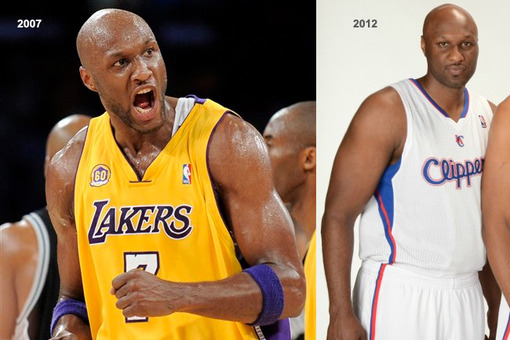 6. Lamar Odom,  Rookie weight: 220 lbs, Current estimated weight: 260 lbs
Lamar Odom was one of the biggest prospects of his generation. Player that had the body of a PF, but could play the PG position as well. That's something that you can rarely find. Over the course of the years he had tons of personal problems including the fact that he lost his child and that's probably why today he's an overweight ex-NBA player that last played in the Spanish league over a year ago.
7. Eddy Curry,  Rookie weight: 260 lbs, Current estimated weight: 320 lbs
Eddy Curry always struggled with his weight. When he was drafted straight out of high school, Curry was projected to be the better part of the center duo with Tyson Chandler. He actually had one All-Star like season with the New York Knicks, but after that he only gained weight and lost money. He hasn't played since the 2012/2013 season when he played in China.
8. Baron Davis, Rookie weight: 190 lbs, Current estimated weight: 230 lbs
Baron Davis was one of the most exciting players to watch during his first ten seasons in the league. After that he signed with the Clippers and it seemed like all of those old injuries came back to haunt him. He finished his career in New York where he suffered a devastating knee injury that ended his amazing career.
9. Dominique Wilkins,  Rookie weight: 200 lbs, Current estimated weight: 250 lbs
The Human Highlight Film and the best player that wore the Atlanta Hawks jersey. Dominique Wilkins' metabolism started to fail him while he was wearing a Panathonaikos uniform during the 95/96 season for the Greek club.
10. Derrick Coleman, Rookie weight: 220 lbs, Current estimated weight: 270 lbs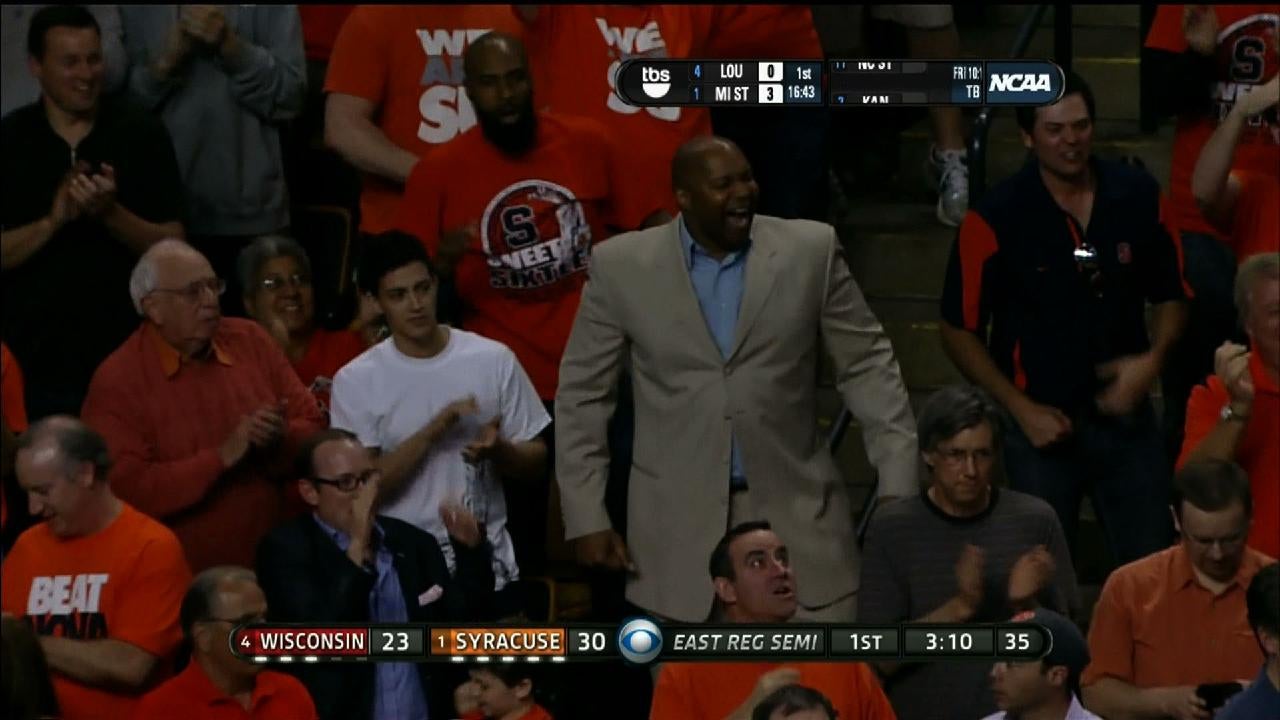 Coleman was a player that was scouted as one of the best in the country before entering the league. Even though he had multiple practices a week and played 80+ games a season, he still couldn't achieve a toned-physique. Coleman started gaining weight after he has been traded from the New Jersey Nets to the Philadelphia 76ers, but that seemed to be a starting point of where is he now. Overweight and bankrupt ex-NBA superstar.
11. Antoine Walker, Rookie Weight: 225, Current estimated weight: 270 lbs 
Antoine Walker was considered as a better player than Paul Pierce during their Boston days. Today Paul Pierce has more championships, more friends, more real estate, more money than Walker and he's still playing in the league. Antoine Walker hit rock bottom after his playing career finished.
12. Yao Ming, Rookie weight: 310 lbs, Current estimated weight: 360 lbs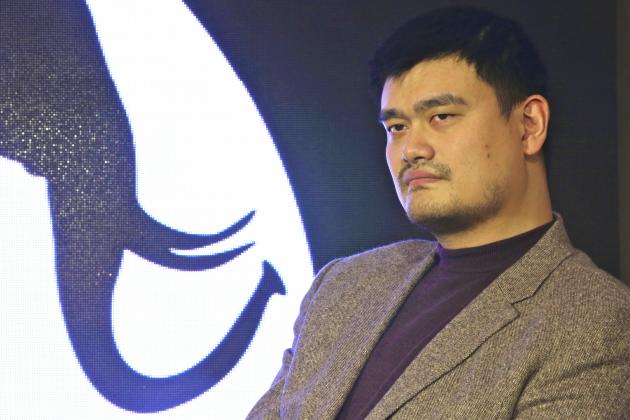 Yao Ming is a big humanitarian right with saving whales and stuff, but we can also notice that he has become magnificently chubby.
From Athletic Freak to Weirdly Huge
What's worse than being known as a superfreak, muscular athlete for most of your adult life only to become the opposite of the perception of an athlete? Well, some players not only put on weight with their bad eating habits and compound that with even worse spending habits, but we digress.
So, who's next in line at our buffet of NBA players that got big after playing? We have our money on a few players that weren't always the most lean and mean during their playing days: let's see how Paul Pierce, Boris Diaw and Carmelo Anthony each flourish after they retire.
(10633)